One month into the start of the season and progress on the fundraising to build our new nets is going fantastically well – we now estimate that we are over halfway to our target with £40,000 set aside for the project.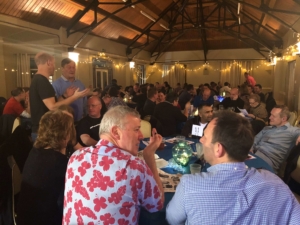 What have we all been doing?
We welcomed in the new season at our very first quiz night with nearly 100 people in attendance. All the age groups were represented brilliantly. Everyone had a huge amount of fun doing the quiz and enjoyed a fish and chip supper followed by Jenny's homemade brownies and icecream! We managed to raise an incredible £1900 for the nets project – big thanks to Jenny and Caroline for organising and for all those who gave their time to help out or donated prizes for the raffle.
Cricket registration for juniors has also exceeded expectations with 410 juniors playing cricket which means that membership this year is up 12.5%. Word of mouth and some clever use of social media has helped a lot.
We have been overwhelmed by the generosity of many people either adding a little amount to their registration fees or making direct donations – So far we have raised £1,000 through our gofund me page and another £1,000 from direct donations. Thank you to all who have donated.
We also raised a further £1,000 after being given the opportunity to feed the rugby community at their annual awards night. The weather was fantastic and a crew of volunteers cooked for 4 hours non-stop. We cooked and sold everything we were given and more. A huge thanks to a whole host of people – Matt Webb for cleaning the grills before we arrived, Steve Frost for relentless burger cooking, Stuart Atkins for front of house serving, Bob Ford for helping us get started and clearing up, Pat Keene for teaching us how everything works and a relief crew about 3 hours in that helped us get to the end. Finally also to Mike Stallard – rugby chairman for letting us get involved.
So what next…?
We have a number of grant applications which we have either applied for and are awaiting a response or we want to apply for – Anyone who would like to help us fill these forms in and who might be inspired to write compelling responses would be much appreciated please email [email protected]
We continue to look for sponsors for the new nets and the junior section. We will have 4 highly prominent advertising opportunities visible 365 days of the year. We are contacting new perspective companies but if you are interested or you have contacts locally that could help, please again get in contact – history suggests club sponsorship is most likely to come through the members of the club and their wider contacts.
In July we are planning to make the most of the Junior's (Colts) day. We will be looking to make this a great afternoon at the club with food, drink and entertainment for adults and children. We are looking for parents who would be willing to help us get this organised. Please email [email protected]
And finally… we will be launching a sponsorship opportunity for the children to participate in July – more to follow on this crazy challenge.
As a committee we want to thank EVERYONE who has either contributed their time or donated money so far. We are very grateful, but we still have further to go. So if you haven't donated please go to https://www.gofundme.com/oldrutscricket-nets every bit of money counts.
Please spare a little time to help us finish the year with all our sponsors in place, a range of grants applied for and a great Juniors day at the club in July.
We have got fantastic momentum behind this campaign now and we are confident that with this final push we will be signing the building contract in the Autumn.