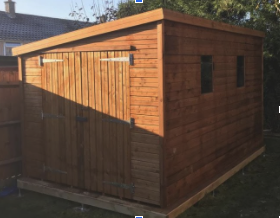 New Fundraising focus 2021
The Junior section in 2020 had two clear funding goals
To invest in the coaching provision across all junior age groups
To buy new flicx wicket
On coaching the cricket committee is pleased to confirm that both Eranga Mendis (level 3 coach) and George Harvey (Level2) are confirmed for 5 days per week of the entire summer season
A new Flicx wicket has been bought to arrive ready for the 2021 season. This will allow the youngest players the opportunity to play at the club in front of the club house, while offfering a much needed coaching aid through the summer.
In 2021, we now turn our attention to our storage. Doesn't sound like the most exciting project, but all our new equiupment needs a safe secure home. Two years ago we were granted planning permission to build a shed next to the cricket nets on the far side of the club. This location would be ideal for access to the nets and coaching sessions. A shed specification has been created and a proposal has been provisional approved by the Junior Committee. See proposal here
Our new Target is £7,000
So in the coming months at registration why not adding an additional amount or make a single donation or getting involved in our fundraising events as we are able to. Please contact [email protected]
The belief is that these investments in new first class facilities will attract more juniors to the club, which in turn supports the coaching quality that is in place, which improves the quantity and quality of cricket the club delivers. Please help.