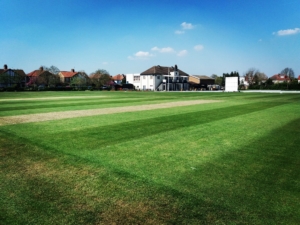 This bank holiday weekend saw the much anticipated return to league cricket for our senior Saturday XIs. With pre-season being hit with inclement weather, it was a case of into the unknown for most players, while it was brilliant to see some new players making their debuts for the club.
1st XI
The 1st XI discovered that winning feeling again with a tense, 6 run win away to Epsom CC. After contributions of 48 and 41 from the returning Joe Riches and Russell Bryan ,the boys looked well set
at 174-4 to post a large total. However this didn't materialise and at the interval, were tasked with defending 198 to win. The game looked to be heading Epsom's way as they reached 161-3, however with Dan Taylor and Ross Trimmings' persistently tight bowling and an all round never-say-die attitude, wickets fell regularly and Epsom eventually came up 6 runs short.
2nd XI
It was a tough day at the office for the 2nd XI as they went down to an 81 run defeat at the hands of recently relegated Valley End CC. Bowling first, the seamers struggled for consistency with VE punishing anything loose as they moved to a commanding 115-2 at drinks. The spinners stemmed the flow of runs for periods with Watson, Jones and Patel bringing control to the innings, however the platform Valley End had built allowed them to attack later on in the innings seeing them finish on 270-6. In reply, Gribble and E. Patel made a positive start putting on 45 for the first wicket, however the Ruts' reply stuttered with only Mapp (30) and Watson (44) making contributions of note as they reached 189-9 from their 50.
3rd XI
Valley End CC were also the opponents for the 3rd XI but unfortunately they also came out on the wrong side of the result over at Nursery Road. After a good performance with the ball (McIntosh the pick with 3-20) and a solid effort in the field, VE were restricted to 164-8 from their 45. In return, it was a case of early season rustiness with the bat with Bizayi providing the only real resistance with 31 as the Ruts were bowled out for 123.
4th XI
It was an afternoon to forget for the 4th XI as they got back into action after last season's promotion. Batting first, a total of 42 all out was never going to pose many problems for Sunbury CC who, while losing 2 wickets along the way, reached their target in the 16th over of their innings. Onwards and upwards for next week!
Sunday 1st XI
The Sunday 1st XI continued their 100% start to the season, defeating Ashford CC by 58 runs in the Thameside League. After posting an imposing total of 271-5 from 40 overs (E.Patel 53, Sharples 104*), the boys made sure of victory in the field with wickets being shared around. New captain Asad Khan is "happy with the start the boys have made" but feels "there is work to be done".
So a mixed bag of results to begin the season with players old and new starting to find their feet again after the winter break. We're in SurreySlam T20 action this Thursday at John Innes Rec vs Merton CC and would love as much support as possible.