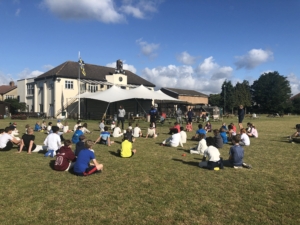 We are really pleased to announce booking is now open for our Summer holiday cricket camps – we are looking forward to welcoming your children.
We will split participates into 4 different groups:-
Beginners: For children 5-7 years old. Ideal for complete beginners or children taking part in ALL STARS cricket programmes. The focus will be fun-based skills and game activities.
Intermediate: For children 8-10 years old who have a reasonable understanding of the basics of cricket. Players will focus on developing their basic skills while playing game-based activities and regular matches.
Advanced: Ideal for players aged 11-12 years old who are developing the tactical side of the game. Entire course is match based using hard ball.
13+:
Designed to give specialist professional coaching for more able cricketers aged between 13-16 years old. The entire course is match based practice with choice of format
*Intermediate, Advanced and 13+ players have access to use bowling machines to develop batting skills.
Venue: Old Rutlishians CC, Poplar Road, SW19 3JS.
Start time: 8.30am.
Pick up time: 1.30pm prompt.
Eranga Mendis
Coach & Organiser